Initially, the ICIPR was created as an association of indigenous activists who agreed to stand up against the war and the participation of indigenous peoples in the Russian aggression against Ukraine.
As representatives of Indigenous peoples, we express solidarity with the people of Ukraine in their struggle for freedom and are extremely concerned about ensuring the rights of Indigenous peoples during the war on Ukrainian territory, including the Crimean Peninsula that remains illegally occupied by Russia.
Immediately after the start of the war, we published a statement condemning the war and Putin's criminal regime. Later we produced several other public statements, including the appeal to indigenous persons who serve in the Russian armed forces with a request not to take part in the shameful war in Ukraine that president Putin calls a "special military operation" and the appeal to international organizations with a request to deprive the indigenous organizations from Russia that supported Russia's aggression against Ukraine of their consultative status with the UN ECOSOC.
Considering that these organizations: Association of Indigenous Peoples of the North, Siberia and the Far East (RAIPON) – https://raipon.info, interregional public organization Information and Educational Network of Indigenous Peoples Lyoravetlian – https://www.indigenous.ru, the Association of Finno-Ugric Peoples of the Russian Federation – https://afunrf.ru, officially supported the criminal actions of President Putin to unleash a war against Ukraine we believe that they have no right to represent indigenous peoples in international human rights organizations. 
In cooperation with other human rights and indigenous partners, we organized and participated in several antiwar events organized separately or within the different international human rights forums. For example, ICIPR organized a side event during the UN Expert Mechanism on indigenous peoples' Rights (EMRIP) session in July 2023 – The influence of the aggression of the Russian Federation in Ukraine on indigenous peoples of Russia.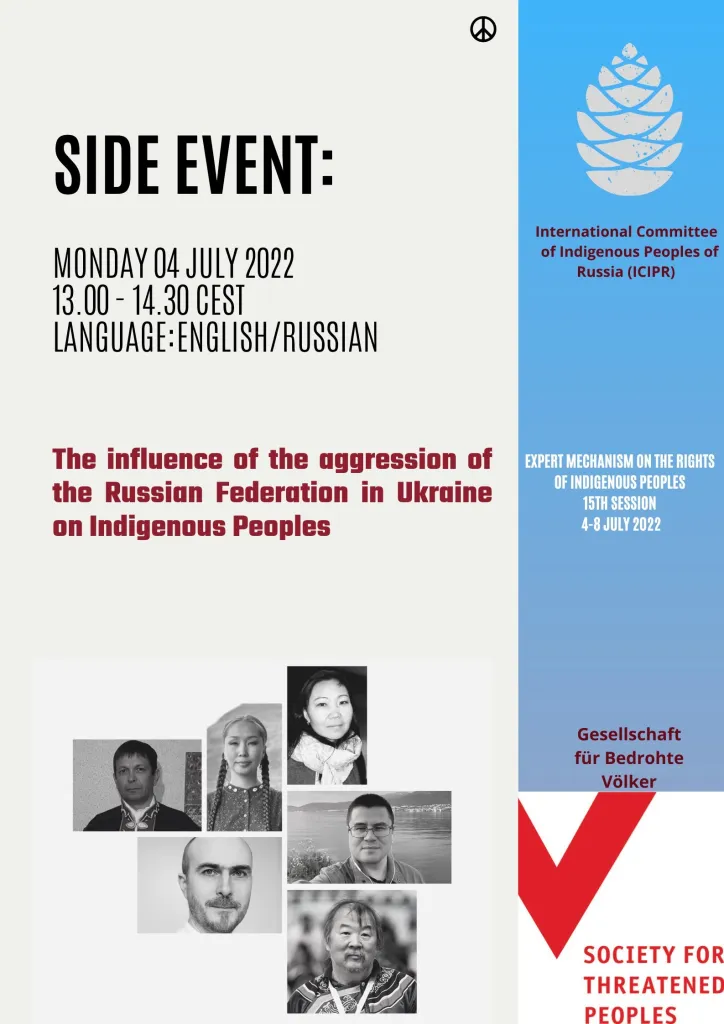 ICIPR members also participated in several other antiwar events, including the briefing of the national Ukrainian information agency «Укрінформ» on 9 August 2022, dedicated to the International Day of indigenous peoples and the war in Ukraine. 
Among other activities, ICIPR also provides analysis and statistics on how the war influences indigenous peoples' rights and freedoms inside Russia. Since the beginning of the war, we have produced two reports on that topic: "Russian Aggression Against Ukraine and Indigenous Peoples of Russia. Report by ICIPR" in August 2022 and "Influence of Putin's aggression against Ukraine on Indigenous Peoples of Russia" in February 2023.
---
---